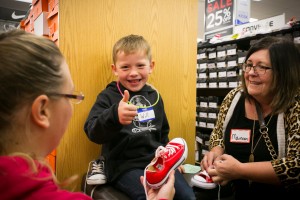 Holiday Shopping Spree Benefits Hundreds of Local Kids
The Tommy Apostolos Fund (TAF) hosted its annual Holiday Shopping Spree on Saturday, December 3, and provided an opportunity for 361 local children to 'shop' at Kohl's in Roseville for much-needed clothing, shoes and other essentials.
Partnering with Roseville City Schools
For almost 30 years, TAF has worked directly with Roseville City School District superintendent, teachers and staff to identify students from the local community who could use a little extra support.  This year, 361 students were paired with 710 community volunteers who escorted them throughout the store to shop. Each child was given an "allowance" of $125 to spend on warm winter wear.
On hand for the event was Tommy Apostolos' granddaughter Lillie Apostolos who eagerly greeted students and families and personally escorted them into the store.  Roseville City School District Superintendent Derk Garcia introduced students to their respective school principal, whom then paired the students with volunteers for the shopping experience.  The students were guided through clothing, coats, sweaters and shoes where they could try on and select items of their choosing. Volunteers included Placer County police and fire personnel, Roseville City Council members, judges, and representatives from the Roseville business community.
The children were also treated to a visit and photos with Santa courtesy of IOP Schools Photography.
The event could not go on without the generous support of Kohl's, which opens outside of normal business hours and offers generous merchandise discounts.
---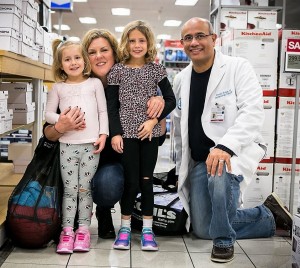 Kaiser Permanente Sponsors "Shop with a Doc" Event
The annual 'Shop with a Doc' events were held simultaneously in Roseville and Sacramento on Saturday, December 10.  Over 100 local children participated in the events and shopped for winter essentials with nearly 200 Kaiser Permanente physicians and their friends and families.
The young shoppers were identified by the staff at The Gathering Inn, Salvation Army, KidsFirst and Roberts Family Development Center. The children could select new clothing, coats, shoes and other essentials totaling $125 thanks to the generous sponsorship of Kaiser Permanente and support from Kohl's.

---